The 8th official Deadman Mode Tournament. Jagex decided to once again change the DMM dynamic and make it so everyone got randomly assigned 1 of 2 finale areas: North of Fally or GDZ. The top 64 from each area would then be teleported to a 1v1 arena and they would have to fight match after match until there was only 1 person left alive. The prize for this tournament was $32,000. $20k for first place, $10k for 2nd, $1k for 3rd/4th.
Besides for getting continously dq'd to absolute shit this tournament and losing half our numbers to it. Personally I lost 3 accounts that I did DT+90range/mage on this tournament due to literally getting DQ'd for nothing. This tournament was a bittersweet win. We had a pretty good strategy going into this finale but FOOLS teamed up with Weedblazers and bug abused the Finale by relogging so they all got assigned to the same spot (GDZ) while all the other clans (us included) got split in half (half getting assigned GDZ, half getting assigned Fally). This means FOOLS+Weedblazers had over 90 people at GDZ while we only had 50~ at each location. Our GDZ unit got completely wiped out and FOOLS+Weedblazers were able to guarentee themselves 64 spots in the 1v1s.
Our fally unit however, I was able to call for and lead to victory. We dominated Fally hard and lost ZERO members at that final area. Rot didn't play this tournament so obviously there was ZERO ddosing which would have made it a perfect finale if not for the random DQs & FOOLS+WB bug abusing.
MankedUpMage isn't a member of Lit but we decided to bring him on board since we've always liked to have a good relationship with streamers to get the game more exposure & he also promised to split in the unlikely event that he won (Amount was not decided beforehand as it was literally during the finale that he DM'd me on twitter with the offer).
Member of the team that bug abused to get in the 1v1s (Psych) ended up going on to win the tournament but was then disqualified for Botting during the week long tournament and the win/$20k was given to MankedUpMage with Micka279 and another player splitting the 2nd place money.
Overall people who were with Lit ended up profiting $26,000 that tournament which was a HUGE win for Lit.
Dominating Fally: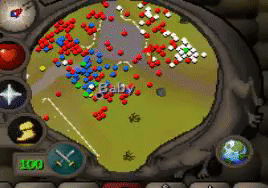 If you have any images/videos of your PoV feel free to PM me/post it and I'll add it to the topic.
My Finale POV: